Tsurugi Bashi Kendo Kai
History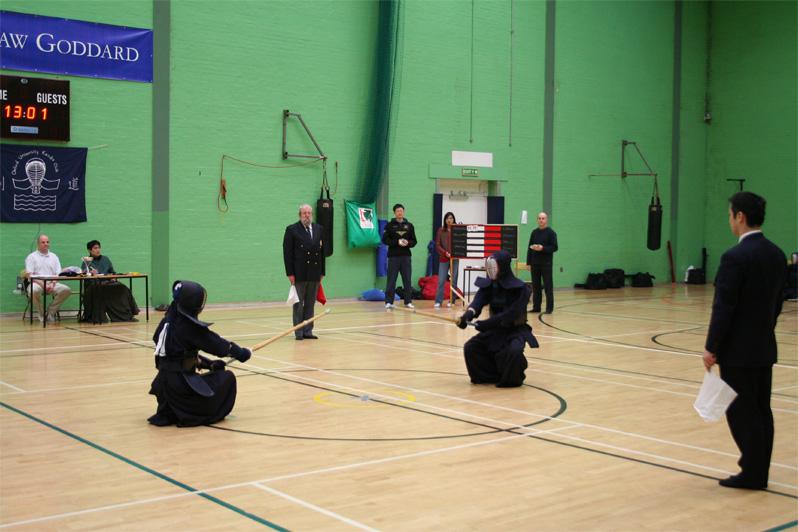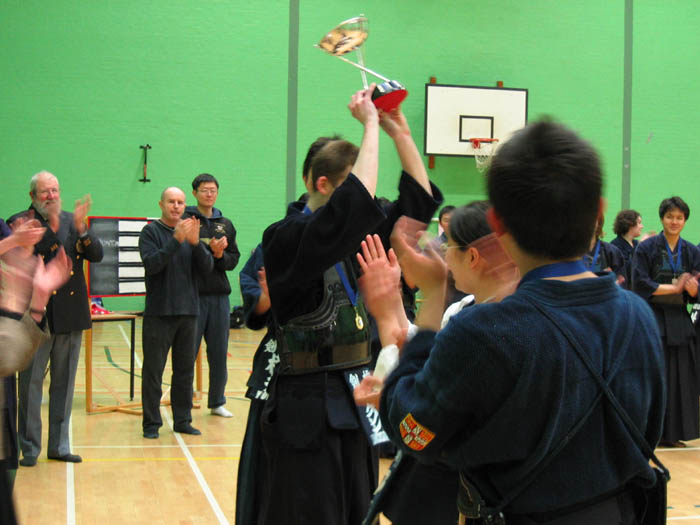 2005-12-10: Six of our new members take part in the Beginners' Taikai Organized and hosted by Imperial College London. From left to right in the picture: Eng Tin Aw, Miao Yue, Daisy Chen, Ivy Ko, Min Lin, Martin Entwistle, all of whom joined the dojo in October. They bring back six medals: two bronze (hayasuburi and kirikaeshi, both Martin), two silver (hayasuburi, Daisy; kirikaeshi, Miao) and two gold (hayasuburi, Eng Tin; kirikaeshi, Ivy). Martin also breaks the dojo floor with his fumikomi!
2005-12-09: Satoshi Yamazaki and Frank Stajano, both in Japan at the time, practice at the Toshiba Komukai dojo in Kawasaki with, among others, Naganuma Sensei and Tsuruma Sensei.
2005-11-24: Very enjoyable Kendo Society Formal Hall at St John's, courtesy of Loren Lam and Gemma Johnson.
2005-11-19: We enter the Mumeishi 3's taikai in London. Team A: Masato Yokoi, Jay Jung, Adam Jackson; team B: Satoshi Yamazaki, Theo Rutter, Jake Barber. The A team goes through to the third round by defeating Kent and another London team before conceding to Northumbria after a well-matched fight (one win, one loss, one draw).
2005-10-23: Satoshi Yamazaki earns first dan in London.
2005-10-22: Adam Jackson, Mikyung Jang and Satoshi Yamazaki fight for Cambridge in the Lidstone taikai for kyu grades at the Nenriki dojo in London (64-person knock-out). Adam (this year's team captain) proceeds through three rounds of elimination.
2005-08-31: Chief instructor Sergio Boffa in an "International Exhibition Match." One of the 18 non-Japanese kendoka selected to take part at the Aichi World Expo near Nagoya in Japan, wins his shiai with a double kote in front of an audience of two thousand that included Kobayashi hanshi.
2005-08-01..05: Second Tsurugi-Bashi gasshuku, in Cambridge, with 33 kendoka (!) including guests from Japan, Belgium and elsewhere. Gold sponsor: Toshiba; bronze sponsors: Riichi Kato, Clare Hall (no silver sponsors). The delegation from the Toshiba Komukai dojo in Kawasaki consisted of Teruaki Shirakata (6-dan), Akio Tsuruma (5-dan), Wakana Tsuchino (3-dan), Wakako Araki (3-dan), as well as "ex-Komukai" Yuuichiro Niikura (3-dan) now resident in Germany. Our chief instructor Sergio Boffa (5-dan) brought along our old friends Naoko Hamada (5-dan), Dominique De Paepe (3-dan), Ronni Verspreeuwen (3-dan) and Herold Pettiau (1-kyu). Dominique was awarded a Tsurugi-Bashi zekken. At the exam, Richard Rowley was promoted to 5-kyu, Joaquim Guerreiro Ho and James Bunnett to 4-kyu, Barry Rutter and Richard Boothroyd to 3-kyu and Adam Jackson to 2-kyu.
2005-06-17..18: Sergio and Dominique visit briefly, to allow us to hold a kendo exam. Joe Clark, Mikyung Jang, Barry Rutter, John Cheung, Luke Holland get 4-kyu; Adam Jackson gets 3-kyu; Adrian Gallo, Theo Rutter, Jake Barber get 2-kyu.
2005-05-13..15: First Meibukan gasshuku in Butgenbach, Belgium. Attended by Kristiina Jokinen, Theo Rutter and Frank Stajano. Many nice photos available, courtesy of Kristiina.
2005-04-10: Frank Stajano is promoted to 3-dan in Kawasaki, Japan.
2005-03-05: Cambridge performs fantastically in the university championships. At Imperial College London. The team reach the semi-final, with Masato Yokoi finishing 2nd in the individual dan, and Emily Kay reaching the semi-finals of the individual ladies.
2005-02-25..27: Sergio Boffa visits with a large group from Belgium, to train and act as chief examiner. At the kyu grading, Barry Rutter, Kai Kwong Hon, David Hall, Jenni Thorne, Mikyung Jang, Joe Clark get 5-kyu; Richard Boothroyd, Ian Scott get 4-kyu; Jake Barber gets 3-kyu. A large group also take part in a guided tour of a Japanese sword exhibit at the British museum.
2005-02-12: Cambridge wins the Varsity match for the third consecutive year, on home soil.
2005-02-07: Members of the society organize a seminar about Japanese swords. The proceedings are available for free download.
2004-12-17..19: Makiko Osaki and Frank Stajano attend the Nakakura cup and seminar in Brussels. Makiko defeats many opponents in the Nakakura cup, yielding only at the third direct elimination round in the Ladies competition and at the fourth in the Open Individuals.
2004-11-24: Hiroo Naganuma sensei is promoted to 7-dan in Tokyo.
2004-11-20: Mumeishi 3's in London. We enter the taikai with two teams: team A is Makiko Osaki, Adrian Gallo and Masato Yokoi, while team B is Jay (Chan-Do) Jung, Theo Rutter and Frank Stajano. Ryu Kato competes in the Junior Individuals. Unfortunately, both of our teams and our Junior competitor are knocked out in the first round of their respective competitions despite brave fights from everyone.
2004-10-22..24: Sergio Boffa visits us with a strong Meibukan delegation: Naoko Hamada, Dominique De Paepe, Olivier Hautier and Herold Pettiau. At the kyu grading exam, John Cheung and Muz Mohd-Muktar get 5-kyu; Miri Kato, Ryu Kato, Reuben Sharma, Jake Barber get 4-kyu; Theo Rutter gets 3-kyu.
2004-07-05..08: First Tsurugi-Bashi gasshuku. Led by Tsugifusa Korogi sensei, Hanshi 8-dan, and Hiroo Naganuma sensei, 6-dan. Event covered by local press (Cambridge Evening News), radio (BBC Radio Cambridgeshire) and television (BBC Look East). Adrian Gallo, Neil Hubbard, Emily Kay get 3rd kyu; Adam Jackson gets 4th kyu; Leonardo Castagnino, Reuben Sharma, Richard Boothroyd, Ben Williams, Jacob Barber, Ryu Kato and Miri Kato get 5th kyu.
2004-07-xx: Theo Rutter spends a month in Japan, visits several dojo and buys his armour there.
2004-05-30: Naoko Hamada brilliantly earns her 5th dan in Japan.
2004-05-12: Toshiba Research Europe offers silver sponsorship for gasshuku.
2004-03-28: Herold Pettiau gets 1st kyu in Belgium.
2004-02-20: Sergio Boffa, with Dominique de Paepe, visits from Belgium to train the team for Varsity and to act as chief examiner for the Lent term gradings. Clara Fan, Brandon Yap and Ian Scott get 5th kyu. Adrian Gallo, Emily Kay and Theo Rutter get 4th kyu.
2003-12-30: Sword polisher Roberto Candido invites some Tsurugi-Bashi members to his workshop in Japan.
2003-12-xx: Herold Pettiau takes part in the Nakakura seminar in Belgium and gets to practice with Eiga-sensei, hero of the world championship.
2003-11-28: Sergio Boffa and Naoko Hamada, with Olivier Hautier, visit from Belgium to act as chief examiners for the Michaelmas term gradings. Adam Jackson, Emily Kay, Theo Rutter, Adrian Gallo get 5th kyu. Herold Pettiau gets 2nd kyu.
2003-11-15: Two Cambridge teams (team A: Charlie McLachlan, Hyowon Kim, Chando Jung; team B: Herold Pettiau, Frank Stajano, Stephen Wells) take part in Mumeishi 3's in London.
2003-10-19: Stephen Wells gets 2nd dan and Hyowon Kim gets 1st dan, both in London.
2003-10-18: Hyowon Kim wins second place in the Lidstone Taikai.
2003-09-30: Hiroo Naganuma sensei, Frank Stajano's teacher in Japan, visits the Cambridge dojo for the first time. Sergio Boffa also visits from Belgium.
2003-09-xx: Frank Stajano attends Toshiba gasshuku at the hot spring resort of Yugawara, Japan.
2003-07-11: Frank Stajano attends Belgian Kendo Renmei's gasshuku, led by Nobuo Hirakawa sensei Kyoshi 8-dan, in Oostduinkerke, Belgium.
2003-07-04: Many Tsurugi-Bashi members travel to Glasgow to watch the World Kendo Championships and take part in the ji-geiko.
2003-02-16: Cambridge wins Varsity match, in Cambridge.